Mohammed Terrak
Research Associate FRS_FNRS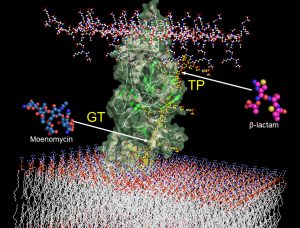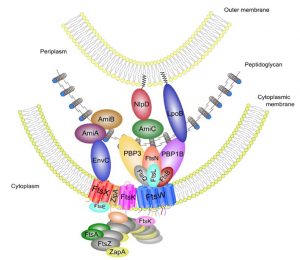 Research interest
Bacterial cell wall peptidoglycan synthesis and regulation

Inhibition of peptidoglycan synthesis

Protein-protein interaction networks involved in cell division 
Research summary
Peptidoglycan (PG) is an essential macromolecular sacculus surrounding most bacteria. It is assembled by the glycosyltransferase (GTase) and transpeptidase (TPase) activities of multinodular penicillin-binding proteins (PBPs) within specialized multiprotein complexes, elongasome and divisome. These complexes include in addition of PG synthases, PG hydrolases lipid II precursor flippase and regulatory proteins that communicate by dynamic protein-protein interactions. These processes are essential and constitute validated or potential antibiotic targets.
We use biochemical and structural approaches to study the interaction, activity and structure of the proteins and complexes with the aim to understand the molecular mechanism of peptidoglycan synthesis and cell division. The results could help in the development of therapeutics solutions to combat resistant pathogens.
Lab members
Sophie Leclercq (PhD student)
Adrien Boes (PhD student)
Alisson Schleiffer (Master Student)
Manon Zwaenepoel (Master Student)
Selected publications
Leclercq S, Derouaux A, Olatunji S, Fraipont C, Egan A.J.F., Vollmer W, Breukink E and Terrak M (2017). Interplay between Penicillin-binding proteins and SEDS proteins promotes bacterial cell wall synthesis. Sci. Rep., 7, 43306
Sauvage E & Terrak M (2016) Glycosyltransferases and Transpeptidases / Penicillin-Binding Proteins: Valuable Targets for New Antibacterials. Antibiotics 5, 12.
Bury D, Dahmane I, Derouaux A, Dumbre S, Herdewijn P, Matagne A, Breukink E, Mueller-Seitz E, Petz M & Terrak M (2015) Positive cooperativity between acceptor and donor sites of the peptidoglycan glycosyltransferase. Biochem. Pharmacol. 93,141-50 .
Rocaboy M, Herman R, Sauvage E, Remaut H, Moonens K, Terrak M, Charlier P & Kerff F (2013) The crystal structure of the cell division amidase AmiC reveals the fold of the AMIN domain, a new peptidoglycan binding domain. Mol. Microbiol. 90, 267-77.
Dumbre S, Derouaux A, Lescrinier E, Piette A, Joris B, Terrak M & Herdewijn P (2012) Synthesis of modified peptidoglycan precursor analogues for the inhibition of glycosyltransferase. J. Am. Chem. Soc. 134, 9343-51.