Professor Clive Hamilton as the first rotating chair in Environmental Diplomacy and Geopolitics at Sciences Po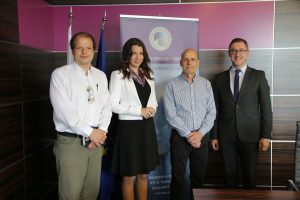 The Chair in Environmental Diplomacy rotates among the three EDGE partner universities. In May 2016, Sciences Po and EUBA welcomed Clive Hamilton from Charles Sturt University. Read the press release below.
While environmental diplomacy is a field often neglected in international relations, it is indispensable to apprehend the world in 2015, where an increasing share of environmental issues are the object of international negotiations for their governance.
The Chair in Environmental Diplomacy will allow to bring top scholars in their field for a period oscillating between 3 months and 1 year, so that they can nurture the project in itself. Throughout the project, the Chair holder will spend one semester or one year at each partner institution, where he would teach a number of courses pertaining to environmental diplomacy. The Chair will also stimulate the works of the participants to the partnership, through regular seminars or joint working sessions. The Chair will create an academic position for the chair holder in each of the partner institution, and will seek to support a significant shift in the development of a new stream of academic activities on environmental diplomacy in each of the three institutions.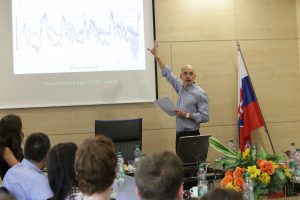 PRESS RELEASE
–
Professor Clive Hamilton hosted at EUBA
Bratislava/May 31, 2016
On May 31, 2016, the EUBA Vice-Rector for International Relations welcomed Professor Clive Hamilton on the university campus in Bratislava. During his stay, Professor Hamilton delivered a speech titled Anthropocene: new and dangerous epoque in the history of the Earth where he provided striking evidence of the new era in the evolution on the Earth – Anthropocene. Unlike the preceding era of Holocene, Anthropocene emerged as a result of massive evolution of humankind. The manifestations of Anthropocene are tractable in climate change, ecosystem degradation, a growing number of natural disasters. Professor Hamilton highlighted the true nature of the threat that the humankind pose on the Earth and that is the incapability of humankind to control their activities. Further to the speech, Professor Hamilton engaged with the students and professors foremost from the Faculty of International Relations in a seminar where he listened to various working papers dealing with climate change presented to him and provided valuable feedback, particularly in terms of methodology.
Professor Hamilton is well-known author of numerous books and scientific papers on the role of human activities in climate change. His recent works cover Requiem for a Species: Why We Resist the Truth About Climate Change a Earthmasters: The Dawn of the Age of Climate Engineering.
He founded a prestigious progressive Australian think-tank called Australian Institute. In 2008, he was appointed a Professor of Public Ethic at the University Charles Sturt in Canberra. He was hosted at various academic positions including the one at the University of Yale and Oxford University. Currently, he is hosted at the Institute Sciences Po in Paris.
His stay at the EUBA was supported by theH2020-TWINN-2015 project No. 692413 titled Environmental Diplomacy and Geopolitics (EDGE).
Professor Alex De Sherbinin as the second rotating chair in Environmental Diplomacy and Geopolitics at EUBA
Professor Alex de Sherbinin, from Columbia University in the USA (http://www.columbia.edu/~amd155/ ), held the temporary position of the Chair of Environmental Diplomacy at the University of Economics in Bratislava (EUBA) in 2018. He took part in a series of lectures organised at all three partner universities – Sciences Po, ULg and EUBA. In September, the ULg organised Summer school "Environmental Changes and Migration" where professor de Sherbinin presented on the topic "Approaches to Modelling Climate-Change Induced Displacement and Migration". In late October, professor undertook a series of lectures at Sciences Po in Paris and EUBA in Bratislava. In Paris, he presented on "Climate change and displacement: Research Approaches and Findings" for students and PhD. candidates from geographical and international relations departments. Next days, the EUBA held a seminar, where professor de Sherbinin presented on the topic "The Use of Environmental Sustainability and Climate Vulnerability Indicators in Policy Contexts". More than 40 scholars, students and researchers took part in the seminar followed by the short presentations of young researchers from EUBA.
On on Monday 29th October – from 2.30 to 4.30 pm, prof Alex de Sherbinin hold a conference on « Climate change and displacement : Research Approaches and Findings » in Sciences Po Paris.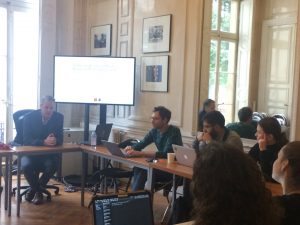 Professor Roger Zetter as the third rotating chair in Environmental Diplomacy and Geopolitics at the University of Liège

Prof. Emeritus Roger Zetter, (Former Director of the Refugees Studies Centre, University of Oxford and Founding Editor of the Journal of Refugee Studies), held a series of lectures on environmental migration as the last rotating Chair in Environmental Diplomacy under the EDGE project.
First lecture: Refugee Labelling – Why They Are Not Climate Refugees
(November 8th, 2018, at the University of Liège (Main Campus)
This lecture presented the different labels used in policy discourses to describe people on the move, and specifically the different construction stages (forming, transforming, politicising) of the term « climate/environmental refugee », widely used to describe people moving due to environmental/climate stressors. This lecture sought to deconstruct this label through assessing its different conceptual, normative, and empirical challenges.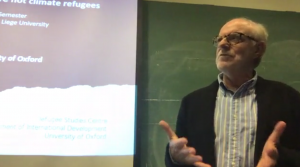 Second lecture: Climate Change and Population Displacement – A Macro and Micro Analysis of Mediating Political Power
(November 9th, 2018, at the University of Liège (Sart Tilman Campus)
Drawing from the specific examples of Bangladesh and Ethiopia, this lecture analysed the way in which political powers (at the macro-state and micro-local levels) deal with population displacement in the context of climate change, and how political recognition does not always result in legal and normative solutions aimed at bridging the protection gap for affected populations.
Third lecture: From Humanitarianism to Development: The Political Economy of the « New » Refugee Regime
(November 22nd, 2018 at Le Bocholtz, Liège)
This lecture sought to explain the ways in which the international refugee regime has been shifting from a purely humanitarian approach towards a more development-oriented approach, presenting new development approaches, structures, actors, funding mechanisms and instruments that are forming part of a new paradigm presented as « the humanitarian-development nexus ». Through a political economy perspective, this lecture presented the implications of this new paradigm on economic, socio-economic, as well as political agendas.
The lecture was followed by a roundtable on "migration governance in the European Union" chaired by Dr. Caroline Zickgraf (Deputy Head of The Hugo Observatory), which featured Dr. Katarina Cséfalvayová (Chair of Slovakia's Foreign Affairs Commission), Dr. Fiona Adamson (Associate Professor at SOAS) and Dr. Christiane Fröhlich (Research Associate at the German Institute of Global and Area Studies (GIGA)).
The evening ended with a cocktail reception to celebrate Professor Roger Zetter's appointment as EDGE Chair, as well as the Hugo Observatory's second anniversary and the launch of the new European project « MAGYC » on Migration Governance and Asylum Crises.
Fourth lecture: Forced Displacement and Development: Evaluating Policy Coherence (November 23rd, 2018, at the University of Liège (Arlon Campus)

This lecture started by tracing the evolution of the concept of « policy coherence ». Prof. Zetter then presented the preliminary findings of an ongoing evaluation of Finland's development policy's coherence with regards to its targets on forced displacement. He further shared a theoretical framework and methodological tools to be used by Master and PhD students in their research work. This fruitful and interactive session was specifically targeted at Master students of the University of Liège's Arlon Campus.