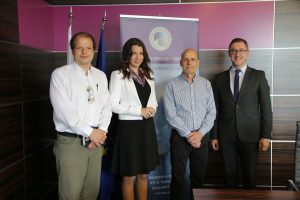 The Chair in Environmental Diplomacy rotates among the three EDGE partner universities. In May 2016, Sciences Po and EUBA welcomed Clive Hamilton from Charles Sturt University. Read the press release below.
While environmental diplomacy is a field often neglected in international relations, it is indispensable to apprehend the world in 2015, where an increasing share of environmental issues are the object of international negotiations for their governance.
The Chair in Environmental Diplomacy will allow to bring top scholars in their field for a period oscillating between 3 months and 1 year, so that they can nurture the project in itself. Throughout the project, the Chair holder will spend one semester or one year at each partner institution, where he would teach a number of courses pertaining to environmental diplomacy. The Chair will also stimulate the works of the participants to the partnership, through regular seminars or joint working sessions. The Chair will create an academic position for the chair holder in each of the partner institution, and will seek to support a significant shift in the development of a new stream of academic activities on environmental diplomacy in each of the three institutions.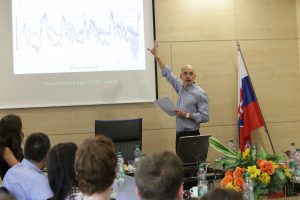 PRESS RELEASE
–
Professor Clive Hamilton hosted at EUBA
Bratislava/May 31, 2016
On May 31, 2016, the EUBA Vice-Rector for International Relations welcomed Professor Clive Hamilton on the university campus in Bratislava. During his stay, Professor Hamilton delivered a speech titled Anthropocene: new and dangerous epoque in the history of the Earth where he provided striking evidence of the new era in the evolution on the Earth – Anthropocene. Unlike the preceding era of Holocene, Anthropocene emerged as a result of massive evolution of humankind. The manifestations of Anthropocene are tractable in climate change, ecosystem degradation, a growing number of natural disasters. Professor Hamilton highlighted the true nature of the threat that the humankind pose on the Earth and that is the incapability of humankind to control their activities. Further to the speech, Professor Hamilton engaged with the students and professors foremost from the Faculty of International Relations in a seminar where he listened to various working papers dealing with climate change presented to him and provided valuable feedback, particularly in terms of methodology.
Professor Hamilton is well-known author of numerous books and scientific papers on the role of human activities in climate change. His recent works cover Requiem for a Species: Why We Resist the Truth About Climate Change a Earthmasters: The Dawn of the Age of Climate Engineering.
He founded a prestigious progressive Australian think-tank called Australian Institute. In 2008, he was appointed a Professor of Public Ethic at the University Charles Sturt in Canberra. He was hosted at various academic positions including the one at the University of Yale and Oxford University. Currently, he is hosted at the Institute Sciences Po in Paris.
His stay at the EUBA was supported by theH2020-TWINN-2015 project No. 692413 titled Environmental Diplomacy and Geopolitics (EDGE).

This project has received funding from
the European Union's Horizon 2020 research and innovation programme under
grant agreement No. 692413