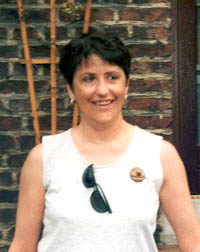 Marie-Claude Huynen, Assistante – Chargé de Cours Adjointe
Behavioural Biology Unit, Primatology Research Group (PRG), Departement of Environmental Sciences, Institute of Zoology, University of Liège, 22 Quai Van Beneden, 4020 Liège, Belgium
Tél : (+32) (0)4 366 51 12
Fax : (+32) (0)4 366 50 10
E-mail: eb.ca1611024243.glu@1611024243nenyu1611024243h.edu1611024243alc-e1611024243iram1611024243
Research interests
Two lines of research are developed in parallel. One focuses on the socio-ecology of primate living in natural conditions (feeding behavior, ranging and social interactions), another on social structures, cognitive processes and environmental enrichment in captive primates.
Various species are studied by our team in natural environment (Gorilla gorilla, Macaca radaita, Papio papio,Alouatta palliata,, Cebus capucinus, Hylobate lar, …..). These studies are carried on in collaboration with various research teams (German, North American, Japanese, Indian, Guinean), depending on theirA involvement in fieldsites.
Captive studies also focus on different species (Macaca mulatta et M. silenus, Cebus apella, Papio hamadryas, Alouatta caraya, Pan troglodytes) , and on aspects related to adaptation to captive conditions. These studies are principally done in FUNDP and in various zoos and animal parks throughout Europe depending on the research subjects
Publications
<iframe src= »http://orbi.ulg.ac.be/widget?query=%28%28author%3Au144138%29%29+AND+%28%28type%3A%23A01%29+OR+%28type%3A%23A02%29%29&amp;chars=0&amp;language=fr&amp;data=&amp;format=apa&amp;css=%2Ffiles%2Fcss%2Fwl.css&amp;sort_by0=1&amp;order0=DESC&amp;sort_by1=3&amp;order1=ASC&amp;sort_by2=2&amp;order2=ASC » width= »750″ height= »1000″ frameborder= »0″ marginwidth= »0″ marginheight= »0″ scrolling= »auto »></iframe>
The pdf fulltexts of all papers are available in ORBI (Open Reposititory and Bibliography) from University of Liège.
Collaborations
Tulane University, USA (Shelley Philippi)
University of Illinois and La Suerte Biological Station, USA (Paul Garber)
Deutsches Primatenzentrum, Germany (Dietmar Zinner)
Koeln Zoo, Germany (Werner Kaumanns)
Max Plank Institute, Germany (Ulrich Reichard)
Université de Conakry, Guinea (Y. Saropoguy & F. Camara)
Facultés Notre Dame de la Paix, Belgium (Michel Mercier)