Belgian Sedimentary Rock Reference Materials
AWI-1, SBO-1, PRI-1, CCH-1, DWA-1
Under the auspices of the « Contact Group of Intrumental Geochemistry » (FNRS-NFWO, Belgium), the laboratory has prepared five Belgian sedimentary rock reference materials. They consist of two shales (AWI-1, SBO-1), one siltite (PRI-1), one calcareous rock (CCH-1) and one dolomite (DWA-1).
Sample description, sampling locations and compilation of data of major, minor and trace elements have been reported in the following papers:
I.Roelandts and J.C.Duchesne:
Recommended Values
Each material (50 g) is supplied in plastic bottles and available for sale at the following prices:
AWI-1 (250 Euros): Grey shale of Westphalian age coming from the Winterslag coal mine (southern limit of the Campine basin, Belgium) 
SBO-1 (250 Euros): Light grey schist of Emsian age from the Neufchateau-Eifel synclinorium. Fresh outcrop along road N15 Bastogne to Wiltz, near Bohey, 1 km from the Luxembourg border 
PRI-1 (250 Euros): Grey-green micaceous siltite (arkosic psammite)of Fammenian age (Montfort age). Rivage quarry, Ourthe valley),
CCH-1 (250 Euros): Crinoïdic limestone of Tournaisian age (Tn3b) (Ourthe Petit Granit formation), NE of the Dinant synclinorium. Chanxhe quarry, Ourthe Valley
DWA-1 (250 Euros): Dolomite of Upper Tournaisian age, northern border of the Namur synclinorium. Wartet quarry at  Marche-les-Dames, Meuse valley
Prices include packing, university overheads (15%), and postage in Europe (other destinations upon request)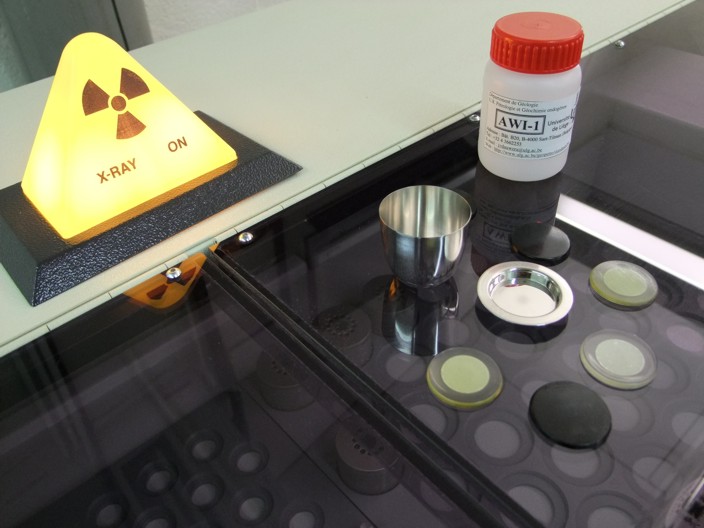 All inquiries and orders should be addressed to :
Jacqueline Vander Auwera
Département de Géologie
Université de Liège, Sart Tilman
+32 (0)4 366.22.51

+32 (0)4 366.20.29
When ordering, please specify the quantity, the name of the samples required, and the address to which the invoice is to be sent.