In this page the latest announcements concerning GHER activities are posted
---
Under the F.R.S-FNRS Equipment project 3D Flow in Calvi Bay (Influence of 3-dimensional currents induced by a submarine canyon in a coastal ecosystem: focus on the Bay of Calvi, north-western Mediterranean Sea), a series of 6 currentmeters and 3 ADCPs are being installed in the Bay of Calvi. This little video shows the testing operations that took place in October. The installation of the equipment is foreseen for the beginning of 2019.
More information also in the news website of the University of Liège.
Published 19 December 2018
---
Careers in Oceanography:

The Ocean Careers Day was held on 11 December 2018. It consisted of a half-a-day event to meet and discuss with representatives from several Belgian and international companies and institutions operating in the domains of oceanographic and aquatic environments.
You can see some pictures taken during this event here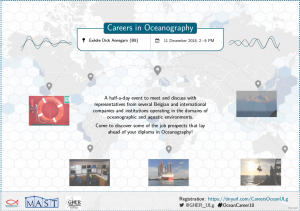 Published: 12 December 2018
---

COST workshop on the use of models, reanalyses and observations to assess the health of the ocean environment
Date: 17 March 2017
Place: Aquapôle (B53), Université de Liège, Sart Tilman campus, 4000 Liege, Belgium
More info on the workshop_announcement
Here is the workshop programme
Published: 18  March 2017
---