Environmental Diplomacy and Geopolitics (EDGE)
H2020 Project by the University of Economics in Bratislava, Sciences Po Paris and the University of Liège
The EDGE project – funded through the European Union's Horizon 2020 programme for Research and Innovation (Grant Agreement 692413) – seeks to increase and reinforce the cooperation between the University of Economics in Bratislava, Sciences Po and the University of Liège in the field of Environmental Diplomacy and Geopolitics.
The Hugo Conference 2016, which marks the launch of the Hugo Observatory, is the first of a series of three Annual Conferences within the framework of the EDGE project.
High-End cLimate Impacts and eXtremes (HELIX)
EU FP7 project led by the University of Exeter
At HELIX we are assisting decision-makers and the research community in making adaptation to our changing climate more understandable and manageable by providing a set of credible, coherent, global and regional views of different worlds at 2, 4 and 6°C, and now 1.5°C. We have further focus on delivering the knowledge needs of Northern Sub-Saharan Africa, South Asia and Europe. The Hugo Observatory of the University of Liège is tasked with understanding the impacts of extreme climate change on future migration scenarios.  To this end, we have performed case studies in Senegal, Benin, Tanzania and Bangladesh.  Caroline Zickgraf describes our HELIX work here.
Mardsen Project
Research project by Dalila Gharbaoui
The Marsden Project at the Macmillan Brown Center for Pacific Studies (University of Canterbury -New-Zealand) is designed to rethink future regional security and exploring the nexus between state-based and indigenous systems in the Pacific. Dalila's research examines the interplay between traditional land governance mechanisms and state-based systems in climate-induced relocation. Case studies are Fiji, New Caledonia and Solomon Islands. The project is funded by the Royal Society of New Zealand.
STRAFPACC Project
Research project by Dalila Gharbaoui
The STRAFPACC project aims at redefining French security strategies in the South Pacific region in the context of climate change. As researcher for STRAFPACC Dalila Gharbaoui will focus on migration, land management and regional security by exploring land-based conflicts related to migration in the context of climate change in the Pacific region. The project is funded by the Council for Training and Strategic Research (CSFRS).
Immobility and the Environment (IMMOBILE)
Research project by Dr. Caroline Zickgraf
Supported by the Belgian Fund for Scientific Research (FNRS)
In recent years, scholars have noted that 'in the decades ahead millions of people will be unable to move away from locations in which they are extremely vulnerable to environmental change', becoming trapped populations (Foresight 2011). While those 'trapped' represent a substantial policy issue, there is little empirical work specifically targeting such populations. The scant attention that is afforded to immobility centers on the notion of the involuntary, whether people are 'trapped', 'stuck', or 'immobilized'.  Much like the discourse of 'climate refugees' as victims has been reframed to include migration as an adaptation strategy, the notions of people 'trapped' or 'climate hostages' must also be nuanced. The complexity of immobility in crisis, including the agency of the immobile, warrants thorough investigation. Thus, this project asks, why do people become immobile? 'Trapped' populations are considered as only one possible 'immobility outcome.'
After theorizing immobility, the project then seeks to empirically articulate the relationship between migration, on one hand, and immobility, on the other. While migration is an increasingly acknowledged form of adaptation, its impacts on adaptation to environmental change in situ have not been adequately tested. In order to remedy this, this project also asks, how does migration affect immobility?  One possibility being that the migration of some can in fact enable the immobility of others. Both questions will be answered through empirical evidence collected from complementary case studies in Senegal, Viet Nam and Japan over a three-year course, 2015-2018.
Migration, Environment and Climate Change: Evidence for Policy (MECLEP)
Research project by Julia Blocher
The 'Migration, Environment and Climate Change: Evidence for Policy' (MECLEP) project is an EU-funded six-country research project led by the International Organization for Migration (IOM). MECLEP Research Partner Julia Blocher – also associate member of the Hugo Observatory – contributed to the project's methodology, managed a case study on Papua New Guinea, and contributed to a case study on Mauritius . Through her research she became interested in the influence of customary land tenure on planned relocations for people at risk of displacement or who face gradual destruction of their lands, for example, in the case of sea level rise, (recurrent) natural hazards, volcanic eruptions or other extreme events. She has published on this topic with Hugo colleague Dalila Ghabaoui.
The role of borders in climate adaptation strategies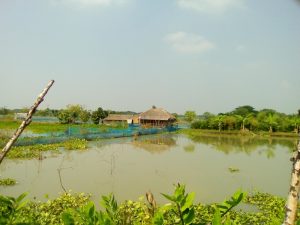 Research project by Nakia Pearson
Hugo Observatory member Nakia Pearson is considering how borders facilitate movement in response to environmental pressures, and thus what roles borders may play in facilitating adaptation measures in a context of heightened global tensions on border security. This project will compare case studies from South Asia and West Africa, two regions where environmental hazards have been linked to cross border migration.
The relatively open Burkina Faso/Ghana border, located within a region of relatively fluid cross-border migration, and the polemically controlled India/Bangladesh border offer contrasting examples of border regimes with differing outcomes.
The countries' similarities in regards to borders drawn by colonial powers, and  crossborder ethnic and commercial networks may allow insights on how borders are locally conceptualised and how they function on the ground,  thereby giving us insight on how their roles in the implementation of migratory adaptation strategies may differ across these varying regimes.