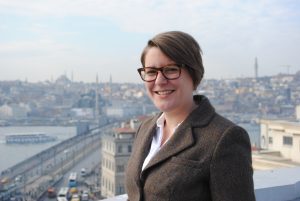 We have the honor to announce that Dr. Sarah Louise Nash has been awarded the best paper prize of the Hugo Conference 2016. Sarah is 2016/17 Mercator-IPC Fellow at the Istanbul Policy Center of the Sabanci University and Associated postdoctoral researcher at the Research Group Climate Change and Security of the University of Hamburg.
Her paper From Cancun to Paris: deconstructing an era of policymaking on the migration and climate change nexus has been selected as the strongest paper presented at the Hugo Conference.
Sarah will receive €1,250 in cash.
Congratulations Sarah!