The State of Environmental Migration 2017: A review of 2016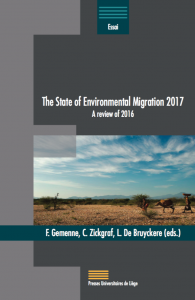 Publisher : Presses Universitaires de Liège
Editors: François Gemenne, Caroline Zickgraf & Luka De Bruyckere
The Hugo Observatory is proud to present The State of Environmental Migration 2017: A review of 2016, the seventh annual volume of the series, which selects and compiles Masters student's work from the course "Environment and Migration" taught by François Gemenne and Caroline Zickgraf at the Paris School of International Affairs (PSIA) of Science Po in an ongoing partnership with the International Organisation for Migration (IOM).
Edited by The Hugo Observatory of the University of Liège, this year's edition is published in the framework of the Horizon 2020 Environmental Diplomacy and Geopolitics (EDGE) project, a partnership with the University of Economics of Bratislava (EUBA) and Sciences Po Paris.
The publication was launched in December 2017 on the second EDGE Annual Conference: Politics of the Earth.
The State of Environmental Migration 2017 can be ordered through the below order form or on the website of Presses Universtitaires de Liège.
Previous editions published with IOM, Sciences Po and IDDRI (2011-2015) are available below.
The State of Environmental Migration 2016: A review of 2015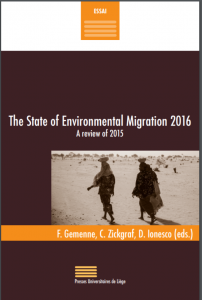 Publisher : Presses Universitaires de Liège
Editors: François Gemenne, Caroline Zickgraf & Dina Ionesco
Europe
North Americas
South Americas
South Asia
North Africa
The State of Environmental Migration 2015: A review of 2014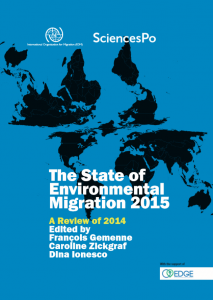 Publisher : IMISCOE
Editors: François Gemenne, Caroline Zickgraf & Dina Ionesco
Africa
Asia-Pacific
The Americas
Europe
The State of Environmental Migration 2014: A review of 2013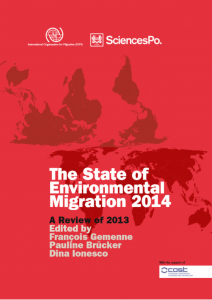 Publisher : Science Po Paris
Editors : François Gemenne, Pauline Brücker & Dina Ionesco
Asia
Africa
The Americas
Europe
Special section
The State of Environmental Migration 2013: A review of 2012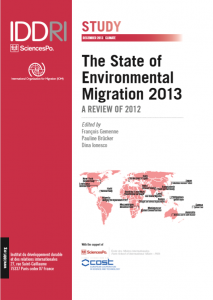 Publisher : Institut du développement durable et des relations internationales (IDDRI)
Editors: François Gemenne, Pauline Brücker & Dina Ionesco

Part 1: Flights and evacuation
Part 2: Mobility, Resettlement
In Focus:
The State of Environmental Migration 2011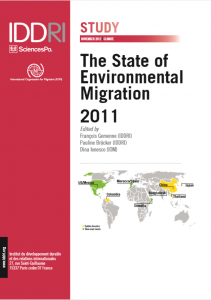 Publisher: IDDRI
Editors: François Gemenne, Pauline Brücker & Dina Ionesco
Part 1: Sudden Disasters
Part 2: Slow-Onset Events
The State of Environmental Migration 2010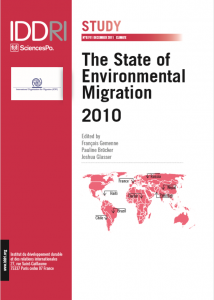 Publisher: Institut du développement durable et des relations internationales (IDDRI)
Editors: François Gemenne, Pauline Brücker & Joshua Glasser
Part 1: Emerging Catastrophes 
Part 2: On-going crises