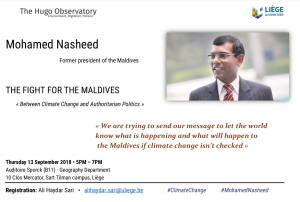 Last week, the Hugo Observatory had the privilege to host the former President of Maldives, Mohamed Nasheed, at the University of Liège, less than one year after his first visit to Liège during the Hugo Film Festival.
President Nasheed delivered a speech on "The Fight for the Maldives, between climate change and authoritarian politics" where he underlined how alarming is the effect of climate change for the Maldives and for the World.
His full speech (broadcasted via Facebook live) is available here:
The Fight for the Maldives : between climate change and authoritarian politics. Live conference by former President Mohamed Nasheed. Hosted by the Hugo Observatory, Liège, Belgium.#NasheedLiege #ClimateChange

Geplaatst door The Hugo Observatory: Environment, Migration, Politics op Donderdag 13 september 2018
Following his speech, President Nasheed took part in a live debate on France 24 (English), where he discussed climate change along with Rajendra Shende (Chairman, TERRE Policy Centre), Bjørn LOMBORG (Author; President of the Copenhagen Consensus Center) and Henri LANDES (Director General, GoodPlanet Foundation).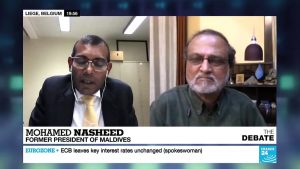 Who's Mohamed Nasheed?
Mohamed Nasheed is a climate change and human rights activist. The biopic "The Island President" is dedicated  to him. He is the first democratically elected president of the Maldives and is now a political refugee living in exile between London and Colombo. Awarded the titles "Champion of the Earth" by the United Nations and "Prisoner of Conscience" by Amnesty International, he was also nominated amongst the "World's 10 Best Leaders" by Newsweek.
Below are a few pictures and quotes from his speech at the University of Liège.