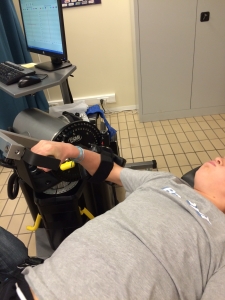 The isokinetics is a method of assessment and rehabilitation of muscle strength based on movements carried out at constant speed thanks to an adapted resistance, depending itself of the force developed by the patient. The isokinetic dynamometer allows for maximum muscle work to the required working speed. The computer coupled to the isokinetic device can control various parameters of the movement and identify functional deficits. The Science Motor Skills and Physiotherapy department and the department of Physical Medicine and Rehabilitation at the University of Liège have developed a long-standing experience in the study and use of isokinetics.
This expertise in muscle performance will objectively determine all the strength, velocity and fatigability parameters for different muscle groups. A major objective will be to compare the different muscle groups side-by-side in order to demonstrate an imbalance or weakness.
In the event of muscle imbalance or weakness, we can help you to develop a prevention program to reduce the risk of injury.