Methodology
BENTHOX proposes to use a holistic and interdisciplinary approach combining field surveys and data collection, mathematical modelling, statistical analysis and diagnostics computation. The Black Sea north-western shelf (BS-NWS) which exhibits seasonal hypoxia has been chosen as a test case area. Specific data will be collected in order to link locally the O2 level, the benthos composition, the benthic-pelagic fluxes and sediment processes. A tri-dimensional (3D) ocean physical and biogeochemical model will be extended by refining the parameterization of diagenetic processes using newly collected and existing data. Statistical tools and diagnostics (e.g. residence time, connectivity between regions) will be used to synthesize and interpret the information provided by the 3D ocean model.
BENTHOX is divided into 3 workpackages (WP): WP1 and WP2 combine modeling, field investigations and data collection while WP3 is dedicated to the development of new methodologies linking the information on environmental variables provided by ocean models to the understanding and management of hypoxia.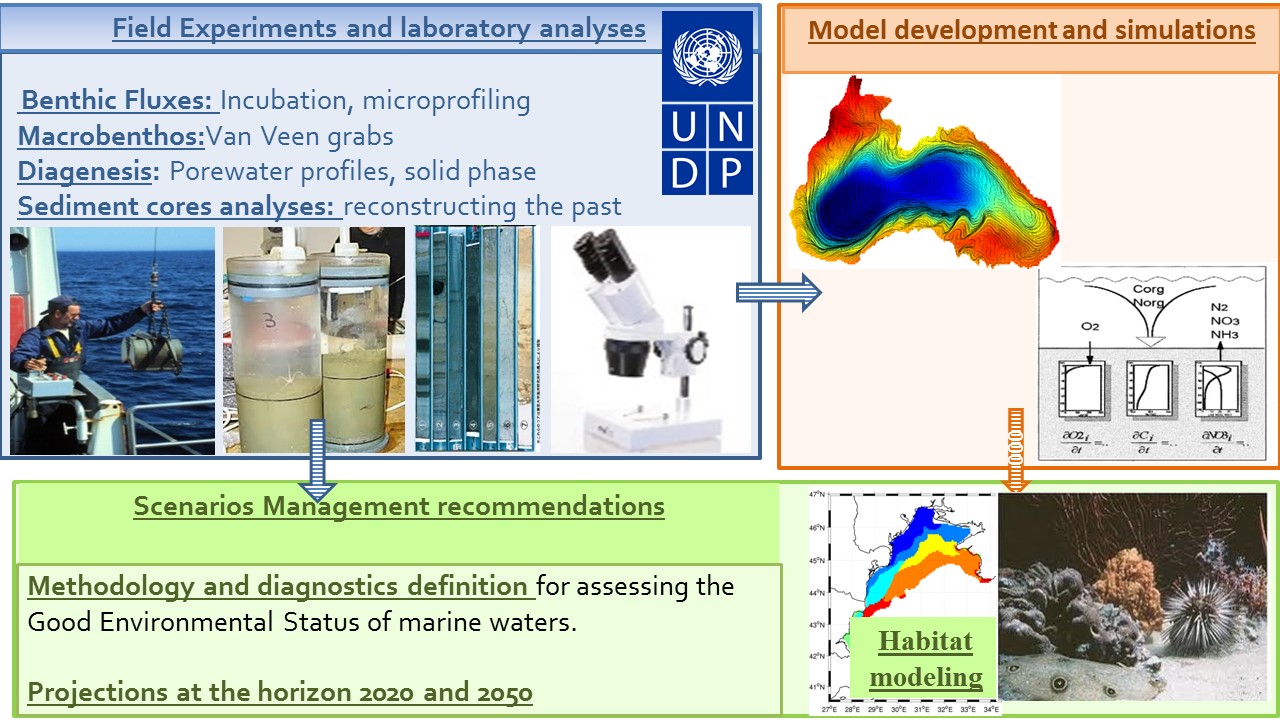 WP1: Impact of hypoxia on benthic-pelagic fluxes, diagenetic processes and benthos
WP1 is focused on the assessment of the current status of the system at local scales A combined experimental and modelling approach is used in order 1) to understand benthic nutrient cycling, benthic-pelagic coupling and diagenetic pathways (oxic, denitrification, anoxic) and the impact of hypoxia on these pathways, 2) to relate hypoxia to the structure of the benthos, 3) to identify areas where hypoxic or even anoxic conditions occur (sites of emission of H2S), 4) to derive a revised parameterization of benthic processes for the 3D models used in WP2& 3.
WP2: Multi-proxies approach to reconstruct the history of bottom hypoxia back to the Holocene epoch
Combining model simulations (back to 1950's) and long core analysis, WP2 will reconstruct the multidecadal evolution of bottom hypoxia and relate the occurrence of these events to potential sedimentary proxies. The objectives are: 1) to identify and calibrate multi-proxies of hypoxia, and 2) to reconstruct the history of hypoxia and in particular to define a pre-impacted baseline. The ocean model will be run for the period 1950-2015 in order to assess and understand the interdecadal variability of hypoxia and to help in the calibration of paleo-proxies.
WP3: Development of science-based tools to link the environment and GES.
The aims of WP3 are 1) to develop tools (e.g. habitat model, diagnostics) to integrate and value the large amount of information provided by ocean models on environmental variables, 2) to test methodologies for differentiating the drivers of hypoxia, and 3) to provide recommendations to environmental authorities on management strategies and to make scenarios at the 2020 horizon. All the tools developed in WP1 and WP2 are used in WP3 for assessing hypoxia at the Marine Strategy Framework Directive (MSFD) time horizon (2020) in response to scenarios of river discharges and to disentangle the drivers of hypoxia.